Richard Allan BA. BSc. C.Eng. MIET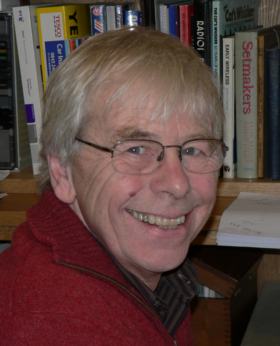 Interests:

My father was an Electrical Engineer and Ham Radio operator and I developed at a very early age a keen interest in radio and electronics which subsequently became the basis of my early career. After graduating with a Durham degree in Electrical Engineering and taking up an appointment with a predominantly mechanical engineering firm I become more involved with the heavier side of electrical engineering and my interests in radio and electronics were then mainly relegated to a hobby status.

In the early 1980's I became interested in computing and after attending evening classes for a year built a Spectrum ZX80 micro computer. Since then I have graduated to owning several IBM compatible and more recently Apple personal computers. I currently have one of the new iMacs with a flat screen and broadband internet access.

I have a collecting habit, which is mainly confined to old radios, barometers, thermometers, old technical books and electrical instruments. I also share with my wife an interest in gardening and antiques. Some time ago I took up stained glass window making, though in recent years have had less time for this

As a New Year's Resolution in January 2001 I decided to give my radio collection the care and attention it deserved. The first step was to catalogue it and take photographs. The next was (with my son in law's encouragement) to produce a web page, to purchase a set of Paul Stenning's CD ROMs and to join the British Vintage Wireless Society. One day the books may make it to this site!

I enjoy the challenge of getting things working and most of the radios and pieces of test equipment are now working well but several are in need of attention. I have been able to locate schematic diagrams for many, but for others I have had to resort to tracing out the circuits. Some of the things I have been given have been abused and lain dormant in a shed, attic or garage for many years and some have provided accommodation for various creatures. My aim is to restore them to how they might have been if they had been looked after by a proud owner but not necessarily perfect.

I am often asked if it is still possible to get valves and I say that it is the other components that give rise to the most faults and rarely due to a faulty valve. Radio and TV servicemen got a good mark-up on valves, they were easy to change and the profit made up for the time spent on discovering and replacing a faulty cheap component. They always kept the valves they removed as many still had plenty of life left in them.

Apart from the above I am a reasonably proficient "do it your selfer" and have installed electrical distribution, plumbing and central heating systems as well as the other minor building and alteration works involved with restoring old houses.

What did I do?:

After leaving school I did my National Service with the Royal Signals as a line technician serving my time in Germany, latterly as a lance corporal. I then spent two years at Standard Telephones and Cables in North London as a laboratory technician working on electronic switching systems for teleprinters before going to university at Armstrong college in Newcastle where I met my wife to be. After university I joined Clarke Chapman in Gateshead where I worked in the Research an Development Department and was involved in the design of hydraulic auto tensioning winches and then with their Electronics Division on a variety of thyristor controlled systems for cranes and machine tools. In 1974 I joined D.Balfour and Sons a firm of Consulting Engineers in Newcastle who specialised in water and sewage treatment where I stayed until 1981 when the office closed. I then accepted promotion and a job in their London office. Towards the end of my time with this firm I was feeling that I was not getting anywhere, there were moves afoot for the firm to be merged with a much larger one so I quit to find something new. i left the firm where I was an Associate in 1990 to study with the Open University and train as a counsellor. After completing my certificate course I started as a counsellor with Bromley Alcohol Service (BAS). I then embarked upon the Diploma course and received further training from BAS. I latterly worked part time for BAS in an administrative role as a counselling co-ordinator and supervised the work of a number of volunteer counsellors.

During my career I have worked for short periods in Yugoslavia, Canada, Jordan, Saudi Arabia, Qatar, Japan, Hong Kong, UAE, Egypt, Cyprus, Pakistan and Germany.

Family:

I am now retired and live in Norfolk with my wife who is a retired General Practitioner. We have two children and five grandchildren.