Bush TR230 Transistor radio
serial number 194A/56C46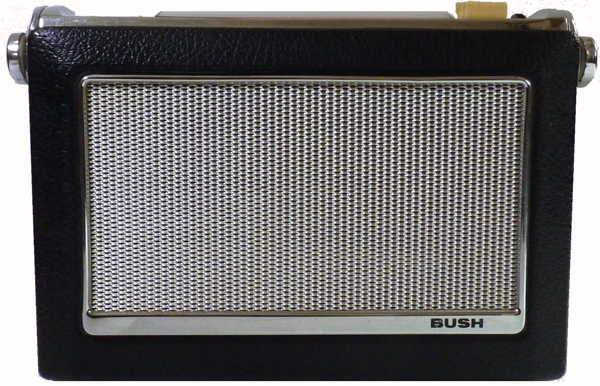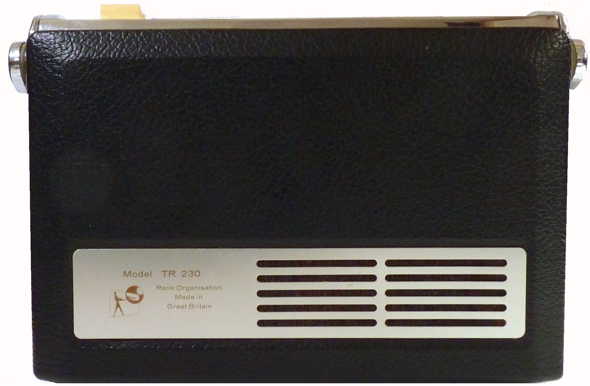 Bush TR230 Seven transistor portable radio housed in Light brown rexine covered plastic case with chrome trim 2 cream knobs (tone, off/on/volume), and 3 push buttons (Long, medium and band spread) Transistors : AF117x3, OC71, OC81D, OC81x2 car aerial socket and earphone socket on one side. Has a turntable base allowing it to be positioned for the best signal.Powered by PP9 battery. working 1966

This set is a later version of the TR130 which was reputed to be Britain's best selling radio in the late 60's, so much so that Bush started marketing reproductions of this set in mid 2002. The reproduction (also called TR130) has an FM band instead of the band spread of its ancestor. UK price £29.95. Several original versions of this radio were made, some with the third button set for Radio Luxembourg on 208 metres and others like mine with band spread covering BBC3 194m West 206m and Luxembourg 208m, Others included Radio Caroline on the dial.
Some History
Bush rose from the ashes of Amplion who made speakers for British Gaumont cinemas and thus had links with the film industry.The radios were advertised in Gaumont cinema foyers as "A Gaumont British Product". Murphy experienced problems keeping at the forefront of technology and lost creditability with their dealers, many of which changed over to Bush. At some point Murphy became part of Bush and the company trade as Bush - Murphy in Chiswick, London. In 1945 because of their links to the film industry, Bush Murphy became part of the Rank empire and changed the name to Rank Bush Murphy (RBM). A new satellite factory was opened in Plymouth in 1949. During the mid 70's (When they were one of my major customers! I worked then for RCA Solid State having previously been with both Mullard & STC) ) they moved the entire operation to Plymouth. In 1972 the name was changed again to Rank Radio International (RRI). Following several years of mounting losses they tied up with the Japanese to become Rank Toshiba in 1978. This lasted just 3 years, and in 1981 finally folded. Toshiba became sole owner of the Plymouth factory. The Bush name now belongs (along with Alba) to an importers in Barking, E London.
Thanks to Colin Boggis for this information
How much is it worth? Expect to pay £10-£15.
Have a look at this site for a very comprehensive and interesting history of Bush radios http://www.bushradio.co.uk/