Bush DAC10 s/n 62/44834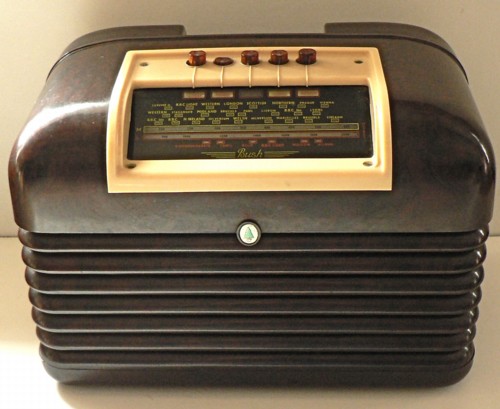 Bush DAC10 s/n 62/44834 Mottled brown Bakelite case. AC/DC mains (210-250 Volts) table top receiver valve lineup: UCH42 UF41 UBC41 UL41 UY41. The radio has three preset stations and Long and Medium wavebands selected by pushbuttons.Original cost £14 16s 0d plus purchase tax (£18 0s 0d). Today, in 2014 these sell at auction for between £15 and £60 depending upon condition, the latter price would be for a working model in excellent condition. working UK 1950
The BUSH DAC10 Radio was introduced in January 1950 and is electronically very similar to the DAC90A which was introduced in the same month.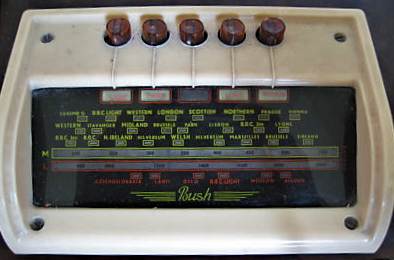 I have wanted one of these radios for some time and when one came up on eBay I was successful in bidding £2.20 for it and after cleaning it up and repairing a couple of minor cracks on the rear portion of the cabinet and replacing the mains lead it worked perfectly for about 30 minutes. The capacitor connected across the mains gave up the ghost up and blew the 3 amp fuse in the mains plug. I replaced this and adjusted the trimmers for the preset stations and so far there have been no further problems.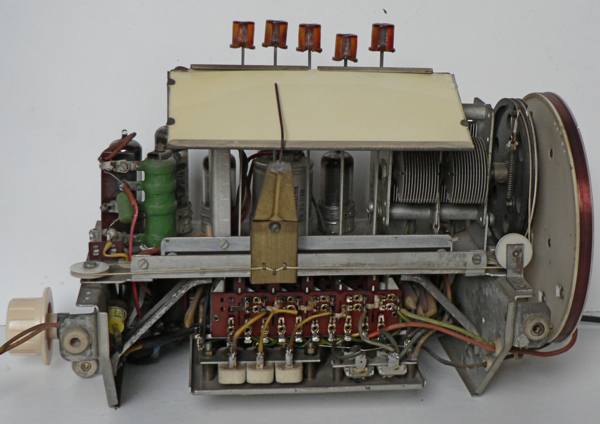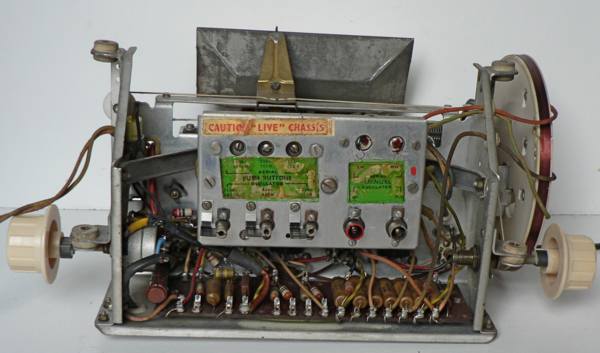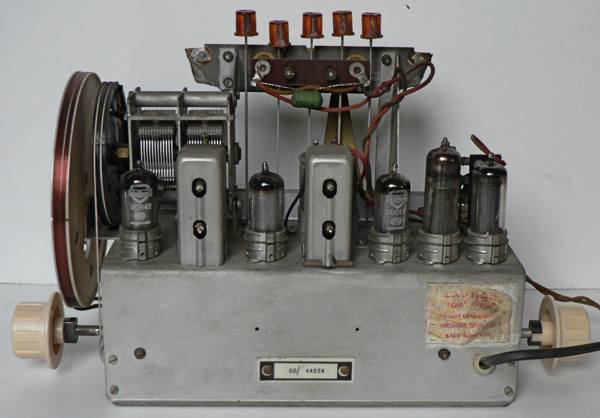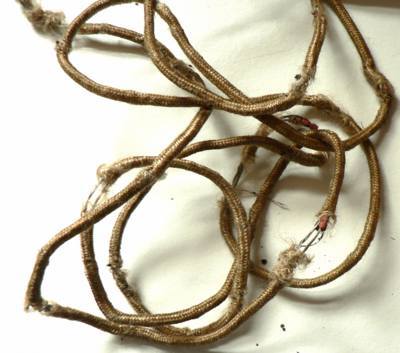 It certainly looks as if this radio has not been used for a very long time!
Bush rose from the ashes of Amplion who made speakers for British Gaumont cinemas and thus had links with the film industry.The radios were advertised in Gaumont cinema foyers as "A Gaumont British Product". Murphy experienced problems keeping at the forefront of technology and lost creditability with their dealers, many of which changed over to Bush. At some point Murphy became part of Bush and the company trade as Bush - Murphy in Chiswick, London. In 1945 because of their links to the film industry, Bush Murphy became part of the Rank empire and changed the name to Rank Bush Murphy (RBM). A new satellite factory was opened in Plymouth in 1949. During the mid 70's (When they were one of my major customers! I worked then for RCA Solid State having previously been with both Mullard & STC) ) they moved the entire operation to Plymouth. In 1972 the name was changed again to Rank Radio International (RRI). Following several years of mounting losses they tied up with the Japanese to become Rank Toshiba in 1978. This lasted just 3 years, and in 1981 finally folded. Toshiba became sole owner of the Plymouth factory. The Bush name now belongs (along with Alba) to an importers in Barking, E London.
Thanks to Colin Boggis for this information
How much is it worth? £50
Have a look at this site for a very comprehensive and interesting history of Bush radios http://www.bushradio.co.uk/