Cossor 463AC
chassis number A140018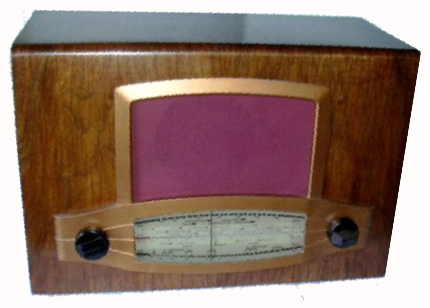 Cossor 463AC s/n A140018 veneered wood case with sloping front. Original cost £14 6s 3d plus purchase tax. OM10(ECH35) OM6 OM4(6Q7GT) 6V6 6X5. Long/medium/short wavebands working, UK1947 (I have circuit diagram)
click here to see a similar radio made for export market
This set seems to be electrically identical to the model 464.The frequency changer and the detector valves have been changed in the past, the current line up is ECH35 OM6 6Q7GT 6V6 6X5. click here to see the circuit diagram
I have had this set since the early 1980's and there has been nothing particularly wrong with it except for:
• a missing wave change knob
• over the years the varnish on the veneered case had faded and cracked along the grain of the veneer
• the bronze paint had worn off the die cast metal escutcheon adjacent to the knobs
• the celluloid in front of the dial had shrunk and yellowed
• the loudspeaker cloth was faded and disintegrating
I started on this set when my eyes alighted on some bronze acrylic paint that my son had been using.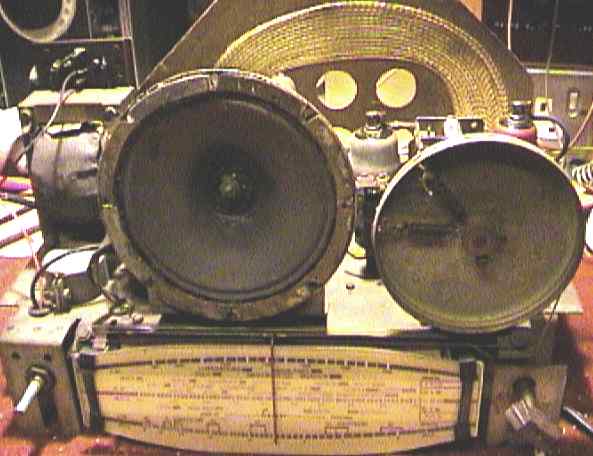 view from front showing frame aerial at rear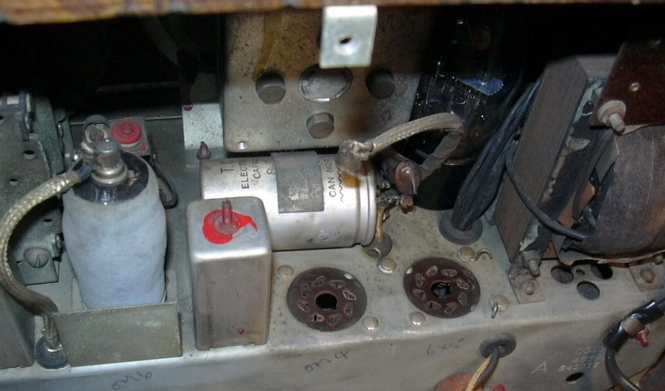 view from rear showing chassis mounted electrolytic capacitor
The cabinet and escutcheon were stripped using paint stripper, wire wool and fine glass paper. After applying a light stain the cabinet was trench polished and the escutcheon given 2 coats of paint.
The loudspeaker cloth had been originally a plum colour. I found that the material used for tapestry had much the same type of weave and dyed a small piece to take the place of the original.
I made a template and cut a piece of glass to replace the shrunken and yellowed celluloid. this was glued into place and when all was assembled gave a much better view of the dial.
I have made a temporary knob for the wave change switch from modelling plastic, it works but is not beautiful!
The glue holding loudspeaker was no longer doing its job and parts of the cardboard surrounding the cone had gone missing. No big problem to sort out!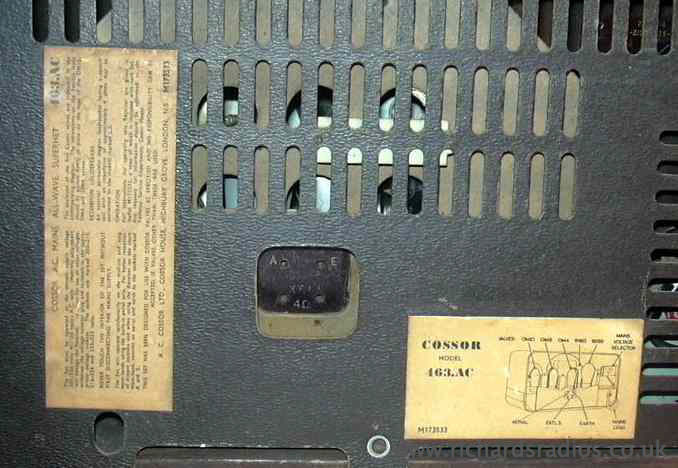 Back cover

Royalty plate attached to inside of back cover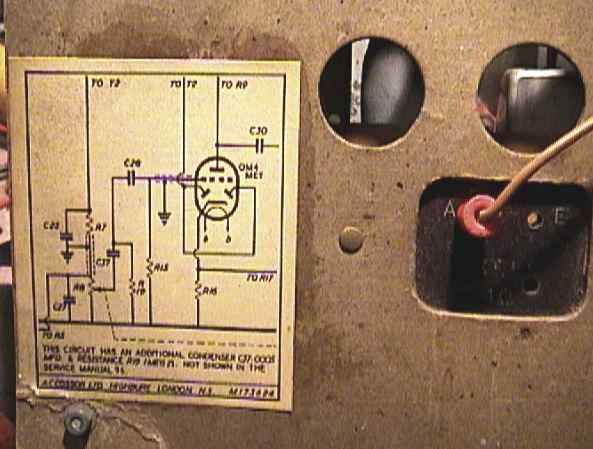 Cardboard support for frame aerial
Electrical tasks included:
• cleaning the wave change switch and the volume control
• replacing perished rubber insulated wires and mains cable
• replacing the electrolytics and one decoupling capacitor
The cardboard supporting the frame aerial was severely bent and the aerial coil had come unstuck. Soaking the cardboard with water and letting it dry slowly whilst clamped between two pieces of wood improved matters considerably.
If you want to know more about Cossor radios look at this great site:
http://www.cossor.co.uk/home