Eagle Products RF Signal Generator
model SG70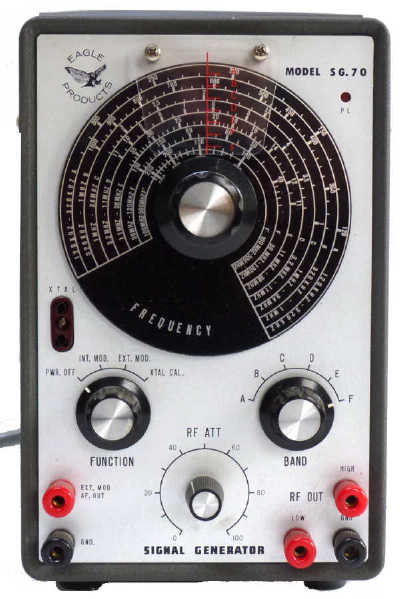 Eagle SG70 Signal Generator 120 kHz to 500 MHz in six bands 220 - 240 Volts AC supply. Two valves 12BH7, 6AR5 and one Silicon Rectifier. Working, manufactured in Japan in about 1970. This instrument was a gift from Fred Standley and Sons and Sons of Wymondham, Norfolk. It was used by their TV engineer in the days when radios and television sets were repaired. It was given to me in its original cardboard box together with instruction leaflet and guarantee card. The box has a label indicating that it cost £ 25.20 also on the label are the letters wu-ly which I guess are a code for the wholesale price?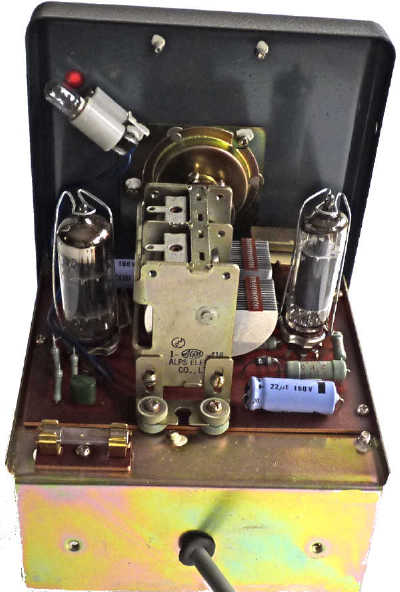 Top and bottom of chassis
Click here for instruction book [includes schematic]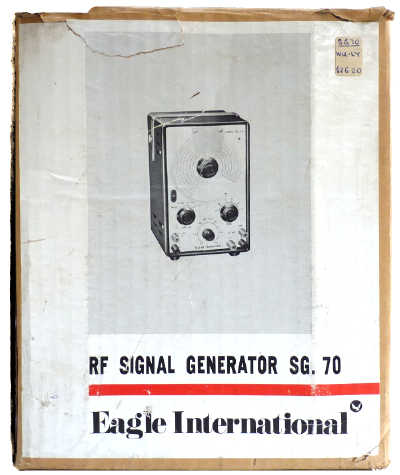 History
During the 1960s and 70s, Eagle International were distributors of Eagle Products which included audio, amateur radio and test equipment which were mainly made in Japan. Their products were sold to dealers who then sold to the public. I understand that Eagle sold meters made for them by KEW. Gerry Adler who was the managing director of Eagle International previously had a business in the 1950s called Relda in Tottenham Court Road, London W1 which like many others sold radio and audio components and equipment. The Head Office was at Eagle International Precision Centre, Heather Park Drive, Wembley, Middlesex.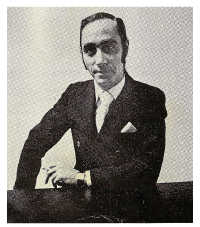 click picture