Ekco valve radio A239 s/n 3467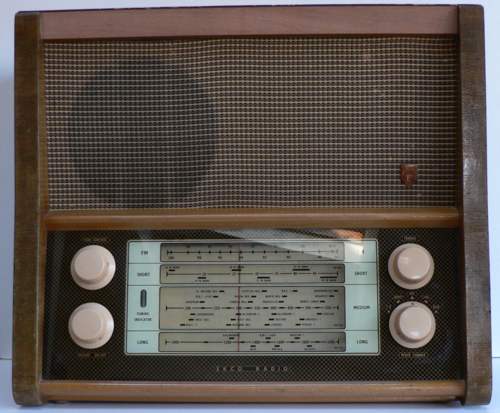 Ekco A239 200-250V AC mains operated table top radio with 3 AM bands 16-50m, 187-570m, 950-2150m and VHF 87.5-100 MHz incorporating 5 valves, rectifier and tuning indicator. Valve lineup: ECC85, ECH81, EF85, EABC80, EL84, EZ80 and DM70. The original cost of the set when introduced in April 1955 was £ 27.14s.8d plus purchase tax. FM broadcasting on VHF in the UK commenced in May 1955, though experimental transmissions by the BBC had been broadcast since 1950.
This radio was given to me by Stu Carrie who was browsing the internet and found this site.
The cabinet was in a poor condition. It has been the home of several wood worms and the veneer along the top edge is completely missing. I have treated the woodworm holes and painted the cabinet inside and out with 'Rentokil' fluid.The dirt and dust have been removed and the outside polished. The cabinet has been set aside whilst I try and coax something out of the silent electronics.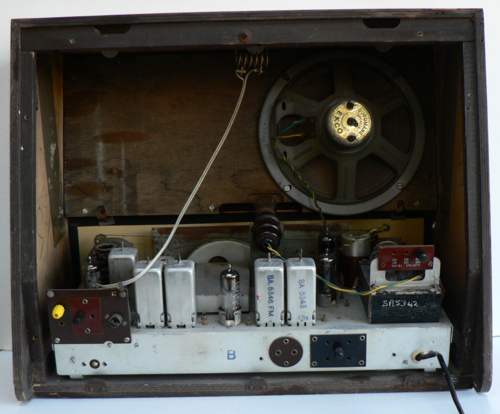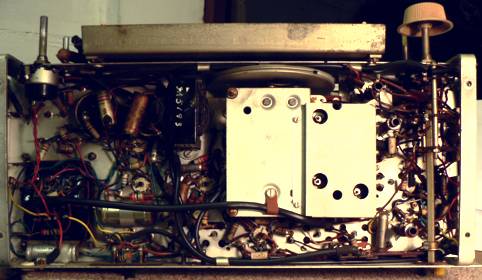 As this view of the interior shows it had been poorly stored for some considerable time, paint had peeled from the loudspeakers, the aluminium foil dipole aerial was corroded and the chassis was covered in black corrosion spots
Having removed the chassis and blown an brushed away the dust I was able to inspect the set. The underside of the cabinet is clearly dated 8 FEB 458 and stamped J.S.&S. The loudspeaker is manufactured by Goodmans for EKCO. (If you know how to decode these numbers please let me know.)