G2AWA
Alexander (Sandy) William Allan MVO BSc FIEE FIMechE FCIBS
1913-1983
Whilst still at school and not yet 18, Sandy managed to persuade the Postmaster General to grant him a licence (dated 17 September 1930) to establish a 'wireless receiving station and to use wireless sending apparatus." He was thus one of the earliest "Ham " radio enthusiasts and was allocated the call sign 2AWA which later became G2AWA.
In October 1945 he re-applied to the GPO for a licence to transmit and for the return of his radio equipment which was impounded at the outbreak of war. Soon afterwards a great deal of Government Surplus equipment came onto the market and one enterprising local businessman, Thomas Best, sold him many pieces of equipment which were used to build a very handsome transmitter. This was manufactured and housed in the downstairs back room which throughout the war had been the home of our air raid shelter. With this transmitter Sandy (G2AWA) and later his wife Margaret (G3HYL) conversed with all and sundry in many parts of the world, often well into the small hours of the morning.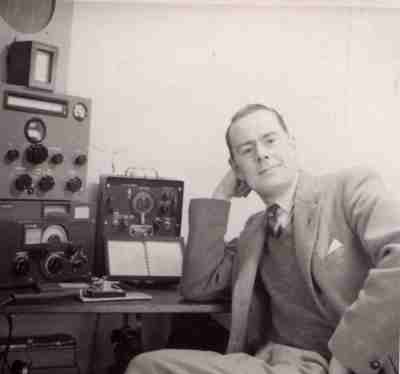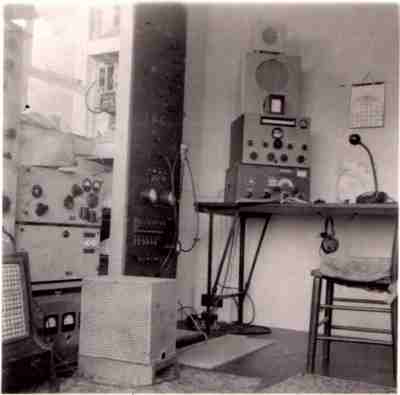 The E52b shown on this site was one of the few items of my father's radio equipment that I did not dispose of when he died. I remember it (probably in 1944) originally in a captured German radio vehicle at Foxhill which was one of the Admiralty establishments which were set up in Bath in 1940. This vehicle and its contents were presumably examined by the Admiralty for whom my father worked. After the war the equipment was no longer needed and he acquired it together with the telescopic aerial mast, electric foot-warmers, first-aid boxes and some teleprinter equipment. We used the foot-warmers to bring up one-day old chicks. The first-aid boxes, being water-tight, were used when we went camping to store margarine etc. to keep out the ants! The aerial mast supported his ham-radio aerial (80 metres). These pictures taken in 1952 shows his 80 metre transmitter, several power supplies, a CR100 receiver and the E52b, STC 4021 microphone and small Admiralty speaker which appear elsewhere on this site.
Sandy had requested that apart from the items which he wanted me to have, his radio equipment be offered to the wireless museum in the Isle of Wight.
In accordance with his wishes, the collection (two tons!) of British, American and German World War 2 radio parts that he amassed over the years were collected by Dr GE Winbolt in Bristol. He kept some of the equipment and arranged for the radio transmitters and communications receivers together with log books and QSL cards to be transported to the Wireless Museum in the Isle of Wight. When my wife and I visited Mr D Byrne in Ryde, IOW in 1987 some of the equipment was seen but had not been put to work. I kept some modern components and items of test equipment he had made which were of no interest to the museum.
Over a period of 30 years until he retired in 1998 Dr Winbolt was an avid collector of military communication equipment. He had a particular interest in radar, navigational systems and early radios. Much of his collection was donated to the Imperial War Museum at Duxford and to museums in Europe, Australia, and New Zealand. A substantial number of items were donated in 2002 and maybe some of G2AWA's equipment is here? Certainly some of the items are very similar.
Douglas Byrne who served in the RAF during WW2 amassed an immense collection of wireless technology and paperwork and started a wireless museum in Lincolnshire but, when he retired, he moved his entire collection to the Isle of Wight. He later set up the National Wireless Museum. Latterly Mr Byrne was in poor health; he died in 2007, ending his days in a nursing home. The museum was renamed the Wireless Preservation Society and registered as a charity with a board of trustees in 1998 until 2009. Much of the collection was stored in various locations around the island and the Trustees arranged for a substantial part of the collection to be auctioned at Market Drayton in 2004. The proceeds of the auction together with the sale of his mansion have been used to fund the Douglas Byrne Marconi Annual Fellowship at Oxford University. Professor Scott, the first recipient, delivered the initial Douglas Byrne Marconi Lecture on March 1, 2011.
Following the clearance of the National Wireless Museum, Sean Williams attended an auction in the Midlands of "surplus stock" from that source. Amongst the items purchased was a box of about 150 QSL Cards and other documentation that belonged to my late father. By searching on the internet he found this page and kindly returned the box to me. I have scanned a few of these which are shown here

---
references
www.m0tiw.co.uk/G3KPO.htm
www.iwcp.co.uk/news/extraordinary-history-of-islandand39s-wireless-wonder-3410.aspx
www.iwcp.co.uk/news/douglas-byrne-15491.aspx