Telegraph Works Galvanometer


serial number 3842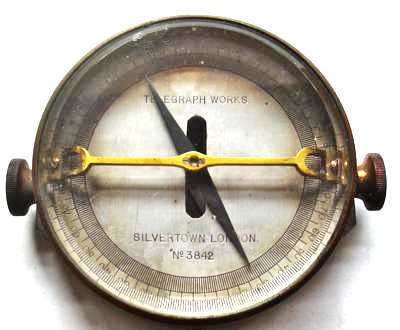 Telegraph Works Galvanometer s/n 3842 3.5" dia brass case with 2 brass terminals, 4 quadrant scale 0-90, compass type pointer, 22ohms. glass chipped.working Silvertown, London, UK. I was given this by my father in about 1948, I don't know how he came to acquire it, though it might have belonged to his father. I guess it dates from around 1920. It would have been used by engineers testing lines for the Post Office in conjunction with a Wheatstone Bridge.

FONS VANDEN BERGHEN has recently provided the following information:
"Silvertown, properly known as the India rubber, Guttapercha and Telegraph Company of Silvertown. The company is still (note that this was written in 1984) in existence as part of BTR Industries Ltd although production of telegraph equipment ceased around 1930."
If you are interested in early telegraph equipment you should look at his sites: www.faradic.net/~gsraven/fons_images/fons_museum.html
Silvertown is an industrial area situated downstream from the traditional docklands of London. Originally marshland, and named after a Samuel Winkworth Silver who began his India Rubber, Gutta Percha & Telegraph Cable works there in 1852, it offered easier access for shipping, and eventually, easier access to a labour force which, because of the rapid growth of the city, was being housed further and further away from the East End of London.
In 1999 BTR plc and Siebe plc merged to create an electronics and engineering group operating in all regions of the world through four focused divisions. At this time the head office was Silvertown House, Vincent Square, London, SW1P 2PL. In April 1999 the shareholders voted overwhelmingly to change the name to Invensys. This new name is suggestive of invention, innovation and systems.