Grundy & Partners Transistor Tester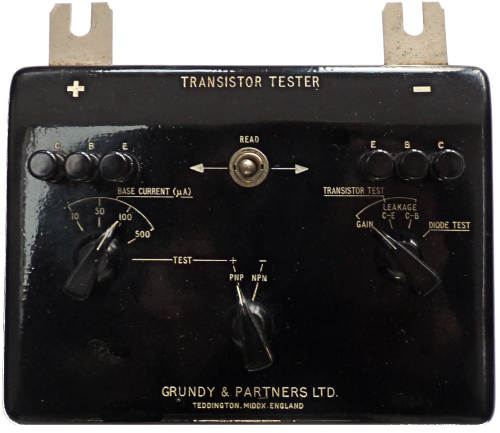 Grundy & Partners Ltd Transistor tester housed in a glass reinforced box with detachable plastic base. It is designed to be used with an external meter. I'm not sure when this was made, but guess 1955/8. It is one of several instruments which I have been given by Richard Fuller.
The instructions for the instrument indicate that they were based at 3 The Causeway, Teddington, Middlesex. In 1961 the firm was based in Gomer Place in Teddington and was making radio connectors and wiring harnesses for aircraft. The firm was ARB approved and AID approved [Aeronautical Inspection Directorate] and in 1958 provided connectors and cables for the Vickers Valiant aircraft. The parent company Grundy (Teddington) Ltd made beer kegs and many other types of metal containers including milk churns and this was initially their electronics department. Another part of the Organisation was Grundy Business systems Ltd also based in Teddington. This latter organisation was responsible for the ill fated, late in delivery "Newbrain" home computer in 1980/2 this branch of the organisation went into liquidation in 1983.
The spade connectors appear to have been made specifically to mate up with a model 8 AVOmeter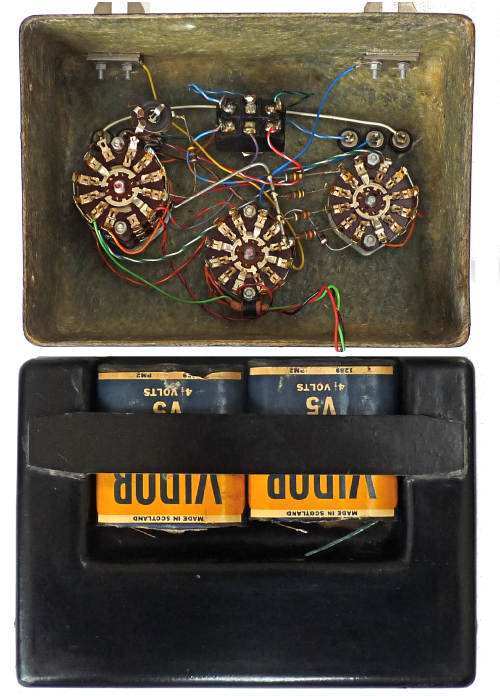 One pole of the toggle switch is not working so only the left hand terminals are effective. Note the ancient Vidor 4.5 volt batteries which must date from before 1968 when the firm was taken over by Crompton Parkinson.
Click here to see the Instruction leaflet


14/01/13