Hacker Mini-Herald Transistor radio

Model RP17
Serial number 5568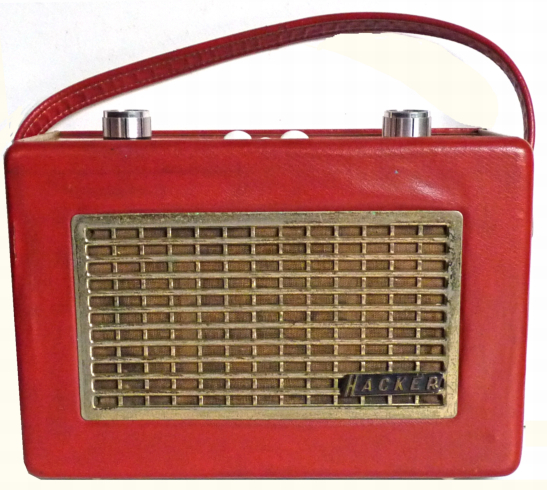 Portable nine Transistor radio A long/medium waveband radio Made by Hacker Radio Ltd, Maidenhead UK. The radio which was kindly given to me by John Smith is housed in a red and cream leatherette covered wooden case with gold trim to loudspeaker and dial plate. The knobs are replacements the originals would have bee cream with gold trim.

This radio which was first produced in 1962 is normally powered by two 9 volt batteries as is common for most of the Hacker range but unlike the later models this one uses the PP7. The very slightly larger RP17A model of 1964 uses PP9 batteries. Both are smaller than the RP18 but similar except that FM circuits are omitted. It was available in black, blue or red. The blue versions may have grey or white knobs, pushbuttons and rear grille.


John Smith relates something of the history of this little radio:
"The red hacker was the first radio I purchased for myself having saved my pocket money and was purchased from Wilkingson and son tv shop in Ware High Street, Herts. When I was a teenager I needed to borrow a small amount of money from my father and the condition of the loan was that I had to give up my radio to my father until the loan was repaid. I repaid the loan the following week but dad kept the radio as interest charged on the loan to teach me about borrowing money in the future and I have always remembered that lesson as I have gone through life. He would sit in the front room and listen to the radio after coming home from work rather than watch the tv and it was still in use up to his death approx 12 years ago."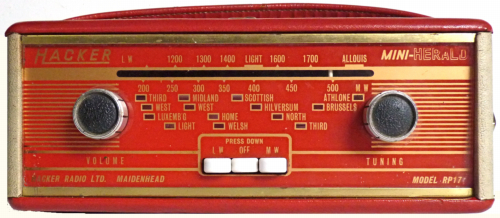 View of dial and controls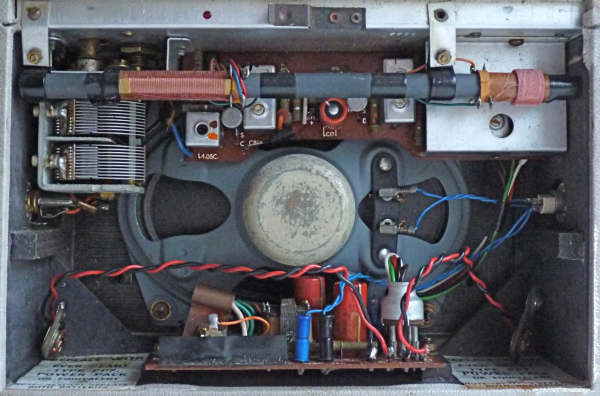 View of interior
Click here for an interesting light upon the manufacture of some Hacker radios.