Hollybush Valve Radio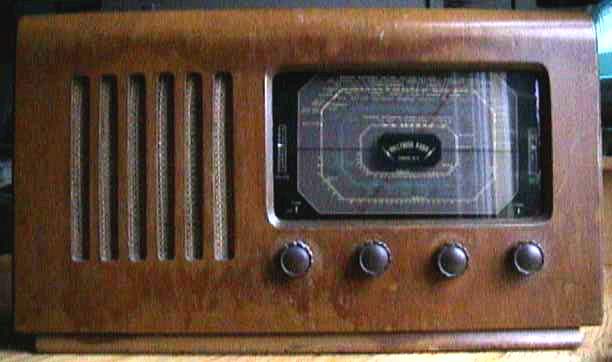 Hollybush veneered wood case with sloping front. 6K7,6K7GT,6Q7GT,6V6(VT107), 5Z4. Long/medium/short wavebands This set is now working UK 1947?
This veneered wood sloping front table top valve radio which is 21inches wide x 12inches high has a 12inches wide x 3inches high plated steel chassis with no number. It is complete with perforated back which has no markings. The cabinet has 111158 written in crayon on inside base. The knobs match those on a Burndept model 290 which I have. Since this picture was taken I have stripped the cabinet filled a couple of worm holes and french polished it.
controls (L-R) Tone-Volume-Wave change-Tuning
(3 Wave bands plus Gram)
Valve lineup 6K8GT, 6K7GT,6Q7GT,6V6,5Z4 Back of chassis has Aerial and earth, Pickup and Ext Spkr sockets.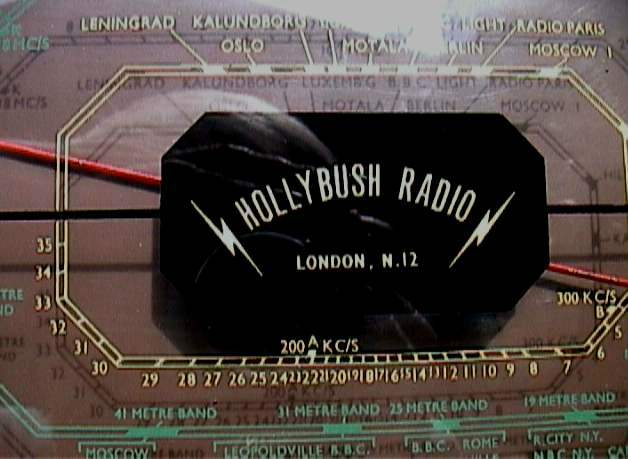 The glass dial is marked with calibration points:
A-200Kcs B-300Kcs C-600Kcs D-900Kcs E-900Kcs H-6Mcs J-10Mcs K-18Mcs (no F or G)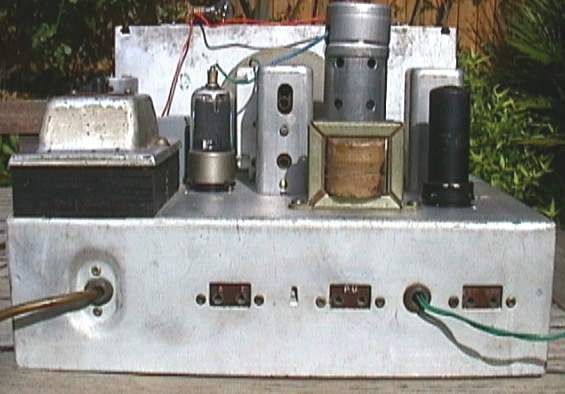 The drop through mains transformer with integral mains adjustment is stamped MT52B and has a 5V winding for rectifier and a 6V heater winding tapped at 5V for the two dial lamps. Choke and speaker transformer are mounted on top of the chassis.
The speaker is stamped BS2733 and 21 Sept 1947. Apparently original capacitors are date marked Jan 49 and those ex WD with ZA numbers appear to be 1945
The wave change switch has a single wafer with connections front and back, trimmers adjustable through holes in front of chassis below tuning scale.
Electrolytic smoothing capacitor 32-16 mFd adjacent to choke (RadioSpares-no date) was dead and had been replaced by two axial tubulars. I have placed one of these inside the aluminium can. The 50 mFd feed back capacitor dated Jan 49 was also leaky and I have inserted a replacement within original casing (adjacent LHS chassis in photo below)
The set works quite well though still has slight hum.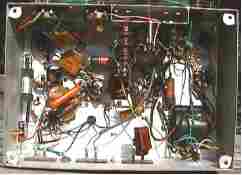 The only other Hollybush I have come across was sold on Ebay is shown below: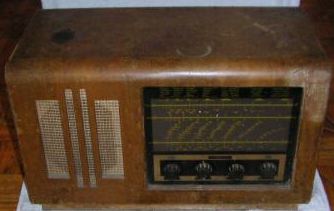 Detail from lower left of dial, what could this be?

Thorsten Schultz has a similar set to mine and his has a dial made by Money hicks Ltd 49 Clapham High St London SW4 7TN
I have traced out the schematic diagram which appears below, it looks rather similar to Sobell model 516AC which was released in 1947, the use of a tapped heater winding to supply the dial lamps and the feedback from the secondary of the loudspeaker transformer may be a clue. I have more recently, [2011] discovered that the firm occupied premises at 199 Woodhouse Road London North Finchley, London N12 in 1960. At this time the firm claimed to have 30 years experience. The shop is now a Kebab Takeaway.