Muirhead B-21-F Decade Condenser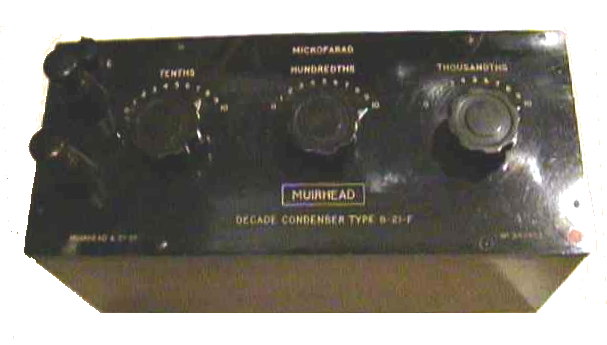 Muirhead B-21-F Decade Condenser Internally screened polished wood case with polished black front panel. Three decade switches; tenths, hundredths and thousandths microfarad. UK
The Muirhead decade condensers were made at their Elmers End works a mile or two from where I used to live in Beckenham. Alexander Muirhead founded Messrs Muirhead and Company in 1894. He was a highly skilled electrical engineer, and his laboratory in Downe had an international reputation for the design and construction of telegraphic instruments of the very highest quality. Muirhead established the technological supremacy of the company in the fields of telegraphy and was the first man to make a recording of a human heartbeat. Muirhead and Co. went on to supply the first X-rays to Beckenham Hospital at the turn of the 20th century.
Want to more about the history of the firm? Have a look here http://www.muirheadaerospace.com/our-company/history.html

No I do not know what would be the safe max voltage you could put across it, but I guess the typical 250v or so would not do it any harm. Mine was open circuit on many of the settings, this was because the contacts which as I remember were silver plated had gone very black. After cleaning all was well and I used it to check my Mullard CR bridge.