Murphy 'Overlander' Transistor Radio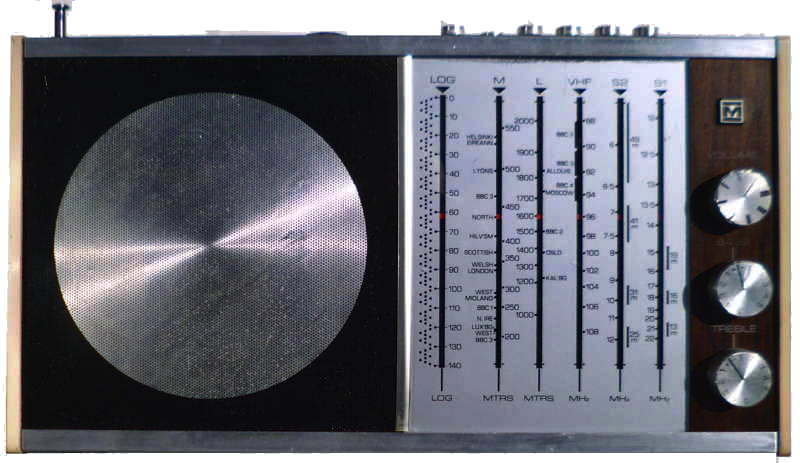 Murphy 'Overlander' Transistor Radio B845 designed to give true world wide listening as well as reception of BBC broadcasts. The B845 a 50 inch telescopic aerial and flywheel tuning to help find any station without "jumping" and a fine tuner to home exactly onto shortwave stations. A logging scale is provided, giving 140 points of reference for accurate location and a time reference dial gives a map guide to broadcasting times throughout the world. Unusually for a portable radio the B845 has separate bass and treble tone controls. Working UK 1971/2

This is one of two radios given to me by Marion Wilkes which she unearthed, whilst trying to clear out items in the house which have been hoarded for years since her parents death. She wanted to find a good home for them rather than them being consigned to a skip. It came with a 9 Volt power supply and came to life when switched on but it was dirty, the aluminium surfaces were badly pitted and the telescopic aerial was broken and the lettering on the front panel was incomplete. I removed the speaker and chassis and washed the all the individual parts, rubbed down and polished the metal top panel and repaired the aerial (it is now slightly shorter). I have printed new lettering with a 'Brother' label printer. If anyone reading this cares to send me a good quality picture of the controls for this radio I would be most grateful.

Specification

Output: 1 watt.
Speaker : 8X5 inch elliptical.
Wavebands: LW, MW, VHF, SW1 and SW2.
Controls: On/Off volume, bass and treble. flywheel tuning and fine tuning.
Sockets: Earphone/loudspeaker and external aerial
Battery: six D size cells.
Chassis: incorporates 10 transistors and 3 diodes.
Finish : Black and silver, rosewood and chrome trim Off white plastic end pieces, foldaway handle.
Dimensions: Height 229 Width 400 Depth 108mm




Front panel after cleaning and repair of aerial


What it should look like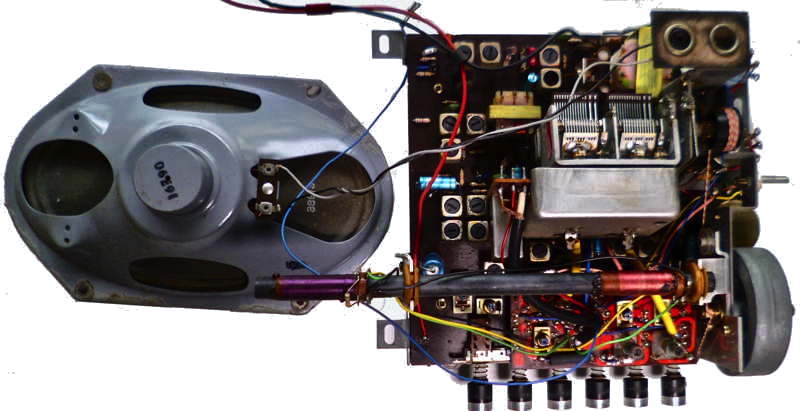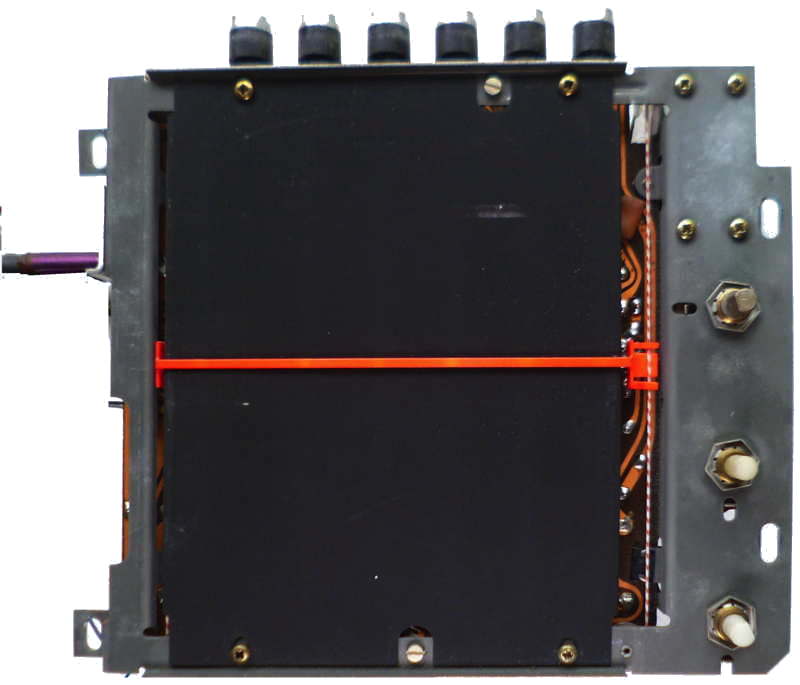 Two views of the chassis

History
Frank Murphy started Murphy Radio in a rented factory in Welwyn Garden City and the first radio was produced in the summer of 1930. Murphy wanted his radios to be simple, affordable, reliable and to look and sound good. The radios although fairly conventional were always stylishly housed. The cabinets were designed by leading industrial and furniture designers of the day including R D Russell and Eden Minns who were on the team of the well renowned furniture firm founded by Gordon Russell. More information about the latter can be found on the website describing the museum www.gordonrussellmuseum.org/

Murphy Radio continued in business until 1970, though from 1962 it was owned by Rank-Bush. Much more information about the firm can be gleaned from "The Setmakers" A history of the UK radio and television industry. BREMA 1991. These two websites are also well worth looking at: www.murphy-radio.co.uk/ and www.classicwireless.btinternet.co.uk/

Detailed technical information on the servicing of Murphy receivers was only supplied to accredited agents. Presumably this was intended to ensure that repairs were carried out properly.