Panasonic Stereo Music Centre
model SG-240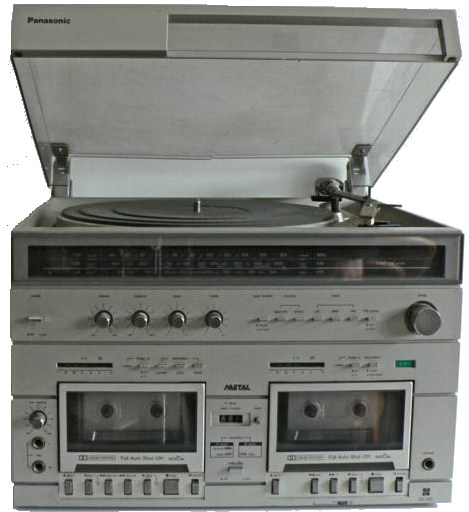 Panasonic Stereo Music Centre SG 240


SG-240 Specifications

AMPLIFIER SECTION
RMS power output 21W x 2 (THD 5%, 4 ohms)
Frequency Response: 30Hz ~ 40kHz, ± 1.5dB (DIN)

FM TUNER SECTION
Frequency Range: 87.5MHz ~ 108MHz
Intemediate Frequency 10.7MHz

AM TUNER SECTION
Frequency Range: MW; 525kHz ~1605kHz (571m ~ 187m) LW; 150kHz ~ 350kHz (2000m ~ 857m)
I ntermediate Frequency 468kHz

RECORD PLAYER SECTION
Turntable: Belt-Drive, Automatic-Return 28cm(11")
Turntable Speeds: 33-1/3 and 45rpm, 2-speed 0.1%(WRMS) ±0.15%(DIN)
Wow & Flutter:
Motor: Electronic Governor DC Motor
Cartridge: Moving-Magnet type (EPC-77SMAD)
Styus: Diamond (EPS-75STCSD)
Stylus Pressure: 3.5±0.5g
Frequency Response: 20 Hz~18kHz (DIN) 15dB

TAPE DECK SECTION
Full Auto Shut Off 4-Track,2-Channel Cassette SystemTape Speed: 4.75cm/sec(1-7/8 i.p.s.)
Frequency: 20Hz ~ 15kHz
Wow & Flutter: 0.05% (WRMS)

POWER SUPPLY: AC 11OV, 120V, 220V, 240V, 50/60Hz, 130W
DIMENSIONS (W x H x D): 375mm x 285mm x 388mm
WEIGHT: 11.5kg.


Working. Bought new in the 1980's.
8 page instruction manual (15.5 MB PDF file) click here for manual