Philco 444 (run 2) valve radio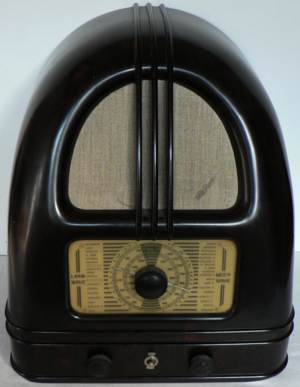 Philco 444 (run 2) Domed black Bakelite case IF 451 kHz Long/medium wavebands. All parts (inc valves) appear to be original. Working, but faulty switch on volume control has been replaced with panel switch. parts made in USA & Canada UK1937
During the early 1930`s, new markets for U.S produced sets were sought after, and particular attention was drawn to the U.K which already had a well established radio manufacturing based industry.
One company that established a base in the UK (in Perivale, Middlesex) was Philco Radio (Philadelphia Storage Battery Company), of Pennsylvania, who started producing batteries in the early 1900`s. By the end of the 1920's they were only making radios.
American receivers traditionally used more valves in their sets to improve quality and output. Valve prices in Britain were considerably more expensive than in USA, due to restrictive practices exercised by the BVA. Philco had to produce a cheaper superhet radio with fewer valves (which involved some ingenuity incorporating special valves and design a set with a stylish cabinet and a marketing strategy to sell their products.
This, the first UK manufactured model known as the "People's Set" was first made in 1936 and was sold at a price within the reach of the average middle class family (6gns or £6.30). I understand that the Bakelite casings were initially made by E K Cole who pioneered the production of Bakelite radios in the UK under the brand name of EKCO.
It has been said that the cabinet design was taken from the bonnet of a Volkswagen Beetle, which had earlier launched in Nazi Germany as the "People's Car".
Today, the "People's Set" is a highly prized collectors set. A first rate 444 may command a price of £495. As with any Bakelite receiver, condition is critical and damaged or restored sets command a much lower price.