Cambridge and Paul Standard Resistor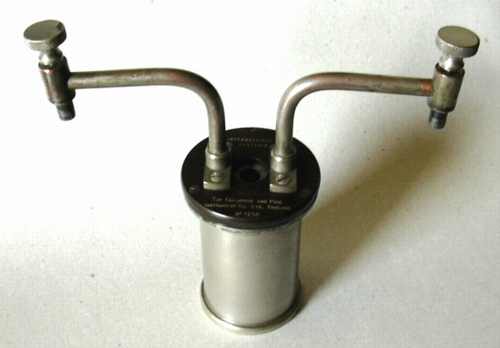 The Cambridge and Paul Instrument Co. Ltd. 100 international ohms manganin resistor type 7230 serial number 51509 with thermometer pocket. Brass nickel plated turned housing with ebonite top. The distance between the terminal centres is 165 mm and the base is 55 mm in diameter. This was given to me recently by Bob Haslam whose father acquired it many years ago. UK 1920-24
Secondary standard resistances are in the form of coils of wire either single coils, or groups of coils mounted in boxes or cases, called resistance boxes. They are made so that they can be immersed in an oil bath of constant temperature, and are provided with large copper terminals to dip in mercury cups. Resistances of this kind are used primarily for calibrating the working resistance boxes. For highest precision power dissipation should be kept below 0.1 Watt. They should be supplied with certificates of calibration from one of the national calibrating laboratories.
For four terminal resistors (such as this one) the resistance of the standard can be exactly defined as the voltage drop between the voltage terminals for unit current in and out of the current terminals.
Maganin is a copper-nickel-manganese alloy, which when properly treated and protected from air and moisture has stable resistance, low temperature coefficient, high resistivity and low thermal emf at junctions with copper.
A prime standard is defined so that it can be reproduced from the specifications of materials and dimensions only. At an International Congress of Electricians held at Chicago in 1893, it was recommended that "the international ohm be the resistance offered to an unvarying electric current by a column of mercury with a constant cross-sectional area of 1 square millimeter at the temperature of melting ice, 14.4521 grams in mass and of the length of 106.3 centimeters."
Some interesting history (especially as it relates to other items in my collection)
The Company was formed in 1881 as The Cambridge Scientific Instrument Company by Horace Darwin Charles Darwin's youngest son, to supply the laboratories of Cambridge University.The Darwin family association continued until the 1970s. The firm started in Panton Street before moving to St Tibbs Row in 1882. It became a Limited Liability Company in 1895 when it moved to new larger premises in Carlyle Road. In 1920 the company took over the R. W. Paul Instrument Company of Muswell Hill London and the name changed to The Cambridge and Paul Instrument Company Ltd. The name was shortened to the Cambridge Instrument Co Ltd in 1924 when it was converted to a public company.
The company was sold to George Kent in 1968 and since the merger it was organised into four divisions, each being eventually separately sold off. Many ex-company employees either founded other well known companies or gained important positions in them. William T. Pye, who had joined as foreman in 1880 left in 1898 to form the W.G. Pye Instrument Company with his son, ultimately to branch out into Pye Radio. E. I. Everett joined with Edgecombe to form Everett Edgecome Ltd.