Ultra R786 Coronation Twin
Serial No. 42241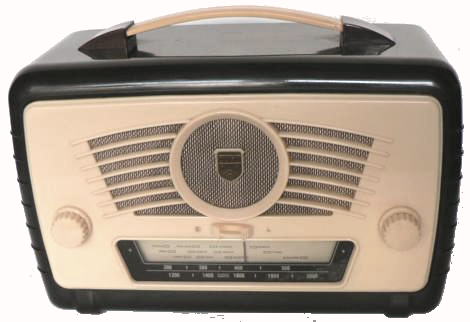 Ultra R786 Coronation Twin Two waveband LW (1200 to 2000m), MW (200 to 550m) portable radio suitable for mains or battery operation. Controls: Left knob on/off/volume and the right knob for tuning centrally placed sliding switch for waveband select. This is a classic battery mains portable that typifies the design of Ultra in the 1950's. Launched to celebrate the coronation of Queen Elizabeth II. Basic station listing with only one foreign station; Athlone. Housed in dark plum and cream Bakelite and plastic cabinet with a carrying handle on the top. Bakelite back on which is mounted the internal frame aerial hinges up by pressing on two lugs, whilst a further smaller compartment opens to reveal the mains cable with two-pin plug. Woven plastic speaker grille is accentuated by the central Ultra badge. UK 1954,. Original price £ 18-16-3 (including batteries). Today (2014) you can expect to pay up to £ 45 for one of these in good working order and condition.
Size (approx): 30cm x 20cm x 14cm (w/h/d) Power: AC or DC Mains 235-250V, 215-234V, 200-214V 40/100 cps, or battery; H.T. 85 volts, L.T. 7.5 volts
Valve lineup (left to right, seen from the back) 1C2, 1F3, 1FD9 and 1P11.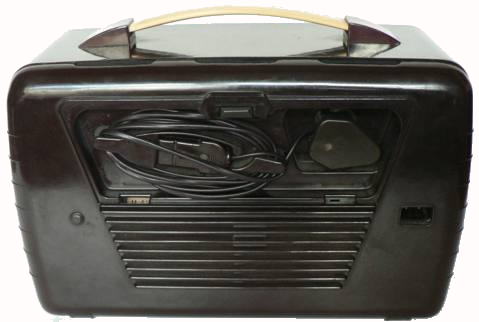 Rear view showing stowed mains lead and plug.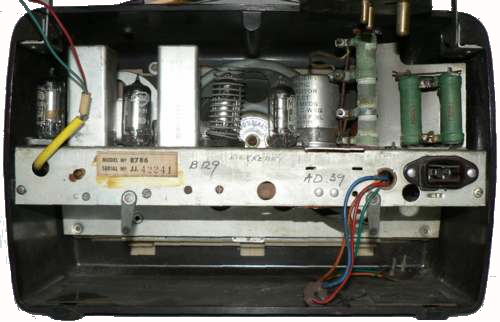 View of inside showing battery leads and chassis.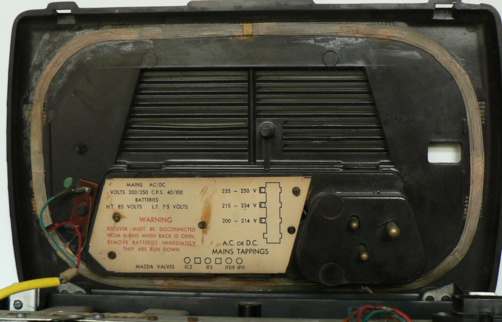 View of inside showing frame aerial.
I have the ORIGINAL SALES RECEIPT dated 28/8/1954, GUARANTEE, OPERATING INSTRUCTIONS and SALES LEAFLET.