Whiteley loudspeakers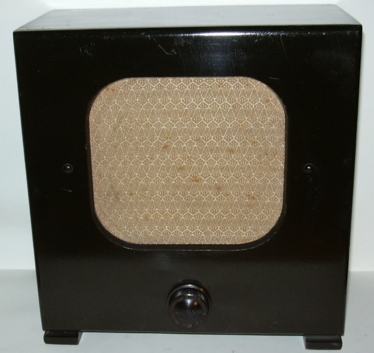 Whiteley Electrical Radio Company Ltd. "Stentorian Baby" cabinet loudspeaker with 3 ohm 6 inch moving coil permanent magnet and tapped transformer and volume control housed in a 25.1 mm wide 26.3 mm high brown painted wooden case. The transformer tappings are connected to a plug board on the rear. I am not sure how old it is, but I guess it was made between 1938 and 1947. Sets made before the war and shortly after often had connections for external speakers. This one with its many tappings is very versatile and is able to connect to a wide variety of radios. The 5 position 20 ohm switched volume control connected directly across the speaker voice coil is a tapped wire wound resistor similar to that shown below.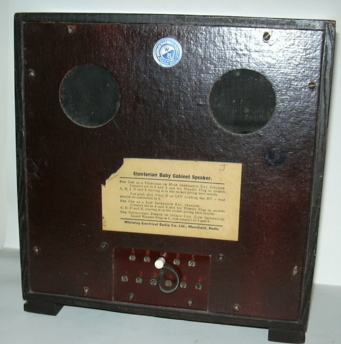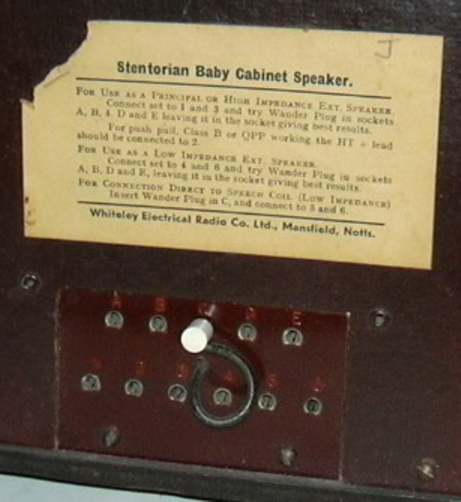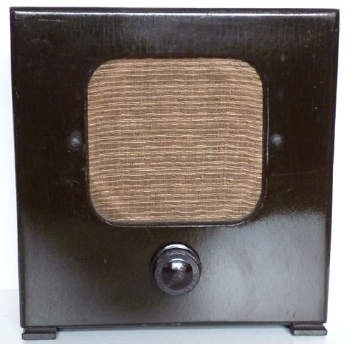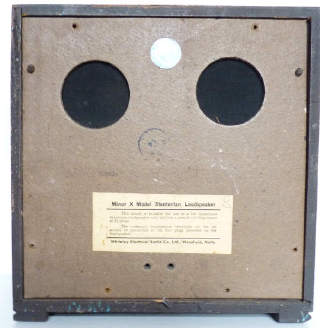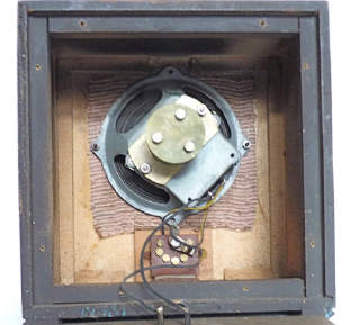 This is a Minor X model Stentorian with 5 inch speaker which was given to me by Hazel Barnard who found it when clearing out her late mother's loft and thought it was a shame to throw it away. She remembers it being used when she was a child. As can be seen this is a smaller and more basic loudspeaker than my Stentorian Baby. This one is of similar appearance but but housed in a 22.5 mm wide 23.5 mm high brown painted wooden case.The 5 position switched volume control connected directly across the speaker voice coil is a tapped wire wound resistor. (16.3/12.7/6.8/2.5/1.2 ohms)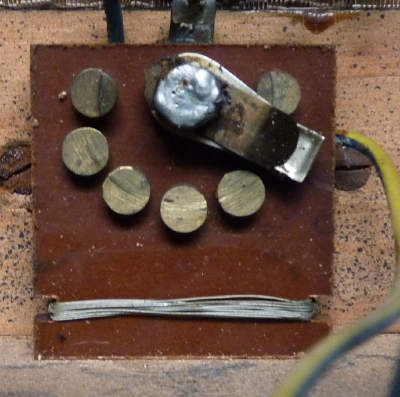 Close up view of volume control
Michael Mearman has sent me pictures of his "Stentorian Junior" 7" which has been with his family since new (maybe 1948), it was first used with a Philips radio then a Regentone radiogram and now a Grundig transistor radio.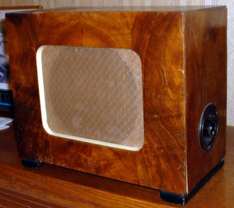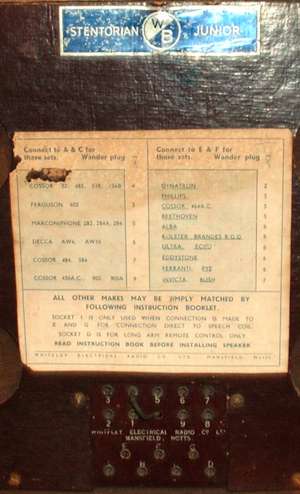 Whiteley Electronics Ltd have been based in Mansfield for nearly 80 years, latterly they had 100 employees and a turnover of £ 4.5m. The firm designed, manufactured, commissioned and serviced PA, Audio Communication Systems, Electronic Display Systems and Visual passenger Information Systems for trains and buses. They were based in a former mill in Victoria Street, Mansfield' Nottinghamshire NG18 5RW
Whiteley Electronics was taken over by Bombardier Transportation UK Limited in September 2009. The premises in Victoria Street Mansfield have recently been advertised for sale.
Ian Dyer who started work at Whiteley's in 1968 advised that they also made the Medresco hearing aids for the National Healh service.
Norman Smeddles thought you may be interested to know that he has a vintage Vox amplifier circa 1958 which is fitted with an 8 inch Whiteley Speaker. What makes it interesting is that, in the book 'The Vox Story' written by Dick Denney, the designer of Vox amps, there is no mention whatsoever about the use of Whiteley Speakers in Vox products. The only speakers used in Vox products, according to Mr Denney are Elac, Celestion, Fane and Goodmans.
This advertisement from 1942 gives an indication of their pre-war product line: