Megger Earthometer Tester Series 1

Serial number 886915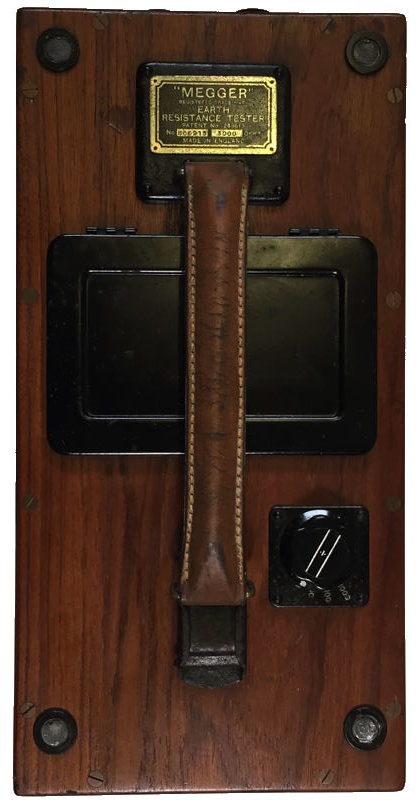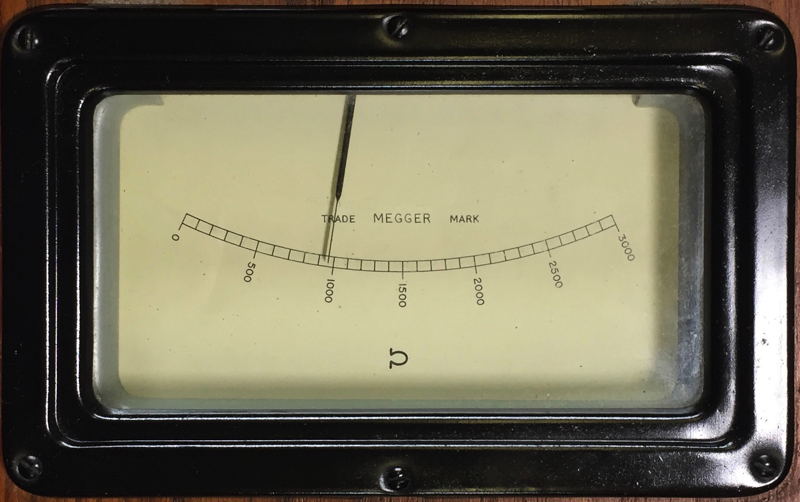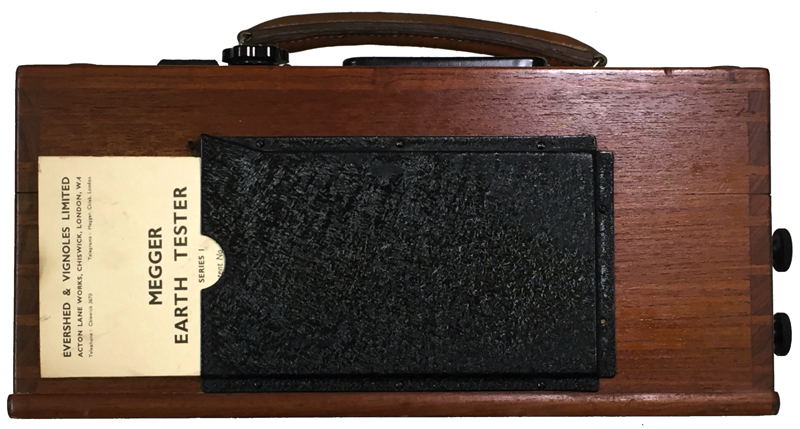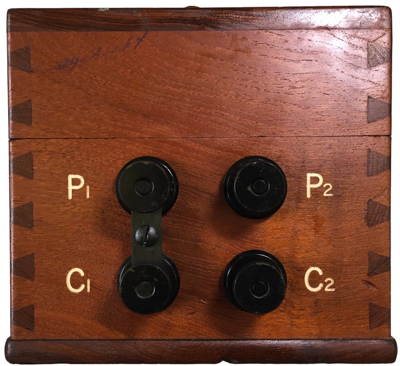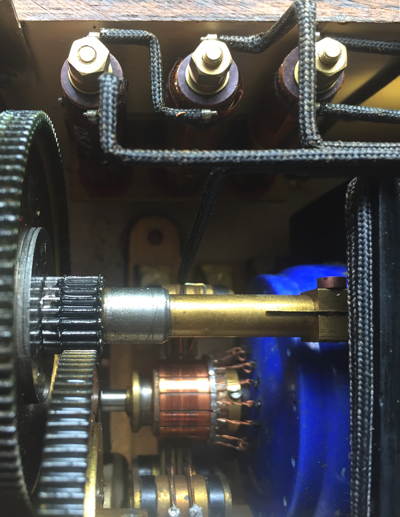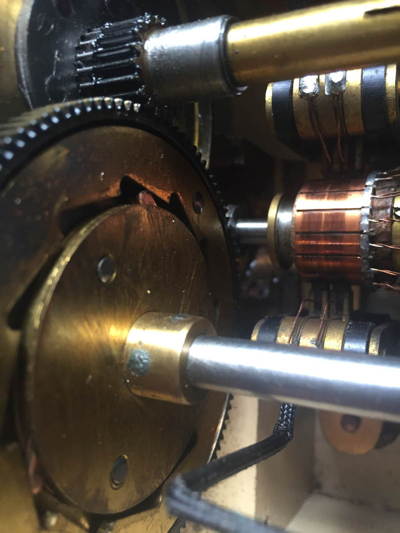 This Series 1 Megger Earth Tester was given to me by Susan Gothard, the daughter of Reginald McCarty, usually known as Mac. He was a radio amateur and his call sign was G3OEM. He lived in Brighton all his life and sadly passed away on Christmas Day 1999. He was quite well known in the radio ham world and used to help families dispose of items when radio ham's passed away and Susan remembers going with him on a few trips as a child. He ran his own business as an electrician but could turn his hand to almost anything. He also worked for Trinity House for many years servicing the radios on the lighthouses and lightship. He took part in motor bike time trialling as well as building and maintaining his own bikes.

I also have a series 4 Megger Earth Tester which is a much lighter instrument having two ranges and unlike this one has non-linear scales.
When I opened it up I saw something interesting, the blue potted armature was marked in white ink with a number of figures which relate to the resistance of the windings and 7/52 which I assume is date of manufacture as the accompanying instruction card was dated 7/50 and the label on the meter lid has a date 4.49. So a bit more evidence for my numbering list. These series 1 instruments are wondrous pieces of engineering all precise, neat and tidy. Although in good condition it needed a bit of a clean.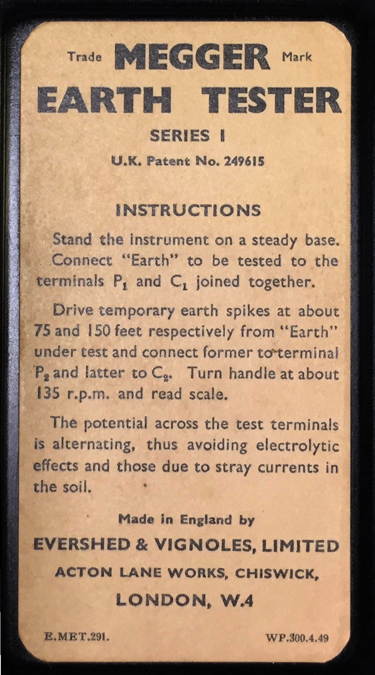 The construction of all the series1 Megger range of instruments is much the same as this one. The upper part is kept in place by four fastenings cocealed behind lead seals which can be levered out to reveal three circular slot headed nuts and one slot head screw. Unfortunately I have not found a way of removing them without damage. If you intend looking inside one of these instruments make a careful note of the switch positions both on the case and on the interior becuses there is little scope for any mis alignment when the top cover is replaced as the peg on the upper part must engage with the hole in the brass swittch wiper.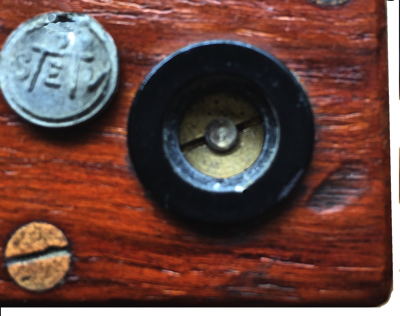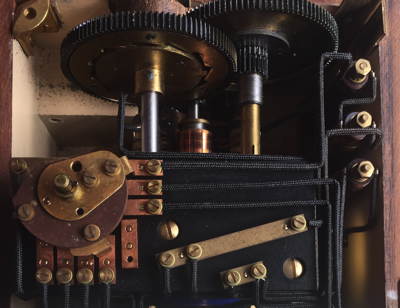 The label on the instrument refers to Perry's patent and I had thought that this would have been the Professor John Perry of Ayrton and Perry fame, but no, this is Charles Edwin Perry who patented this system in 1926 and went on to submit other patents for E&V over the years. There may be a link but I have not found it.

The instrument is designed for 2, 3 or 4 wire resistance measurement. The current leads are to be connected to C1 and C2 and the potential leads to P1 and P2. Provision is made via a rotatable link to connect the potential and current points together when required. The meter has a single scale, calibrated from 0 to 3000 ohms, the range being selected by the four position switch adjacent to the meter scale giving 3000Ω 300Ω 30Ω and 3Ω FSD
Although outwardly similar to other series 1 instruments the Earthometer produces a stepped direct current waveform alternating positively and negatively to avoid electrolytic effects altering the true resistance. This is achieved by the inclusion of an additional commutator. The machine can be used to measure conventional resistances as long as they have no capacitive or inductive component.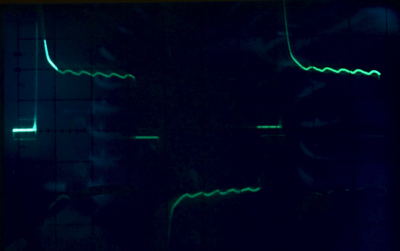 output waveform
Evershed & Vignoles Ltd of Acton Lane Works, Chiswick. were taken over by AVO Ltd. Avocet House, 92-96 Vauxhall Bridge Road, London, SW1. AVO was a member of the Metal Industries Group of companies. Though known for their Avometer general purpose multimeter, they made a wide range of test gear including valve testers (see elsewhere on my site). The Acton Lane works closed down at about that time - around 1986.
The firm Megger Ltd is now based at: Archcliffe Road, Dover, Kent, CT17 9EN, United Kingdom.
For hand driven generators, Meggers and insulation testers click here