Hacker VHF Herald RP37a Transistor radio
Serial number 19206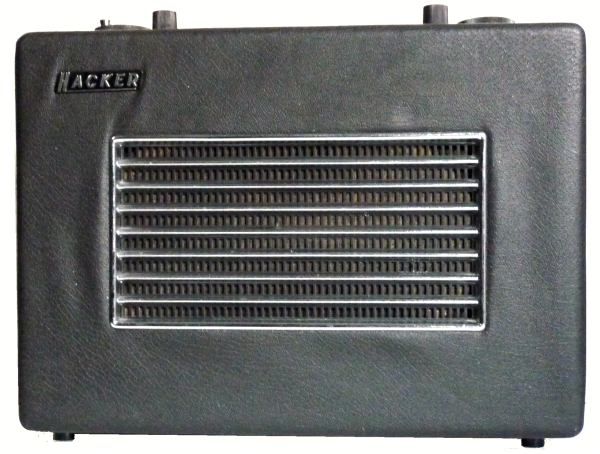 Portable Transistor radio Made by Hacker Radio Ltd, Maidenhead UK. The radio which was kindly given to me by John Smith a retired radio engineer who said that he used it in the workshop some times when some of the stations he liked moved to vhf. It is complete and in working order but at some time in the past the aerial and back panel grille have been replaced. I have replaced the black insulation tape on the carrying handle with a strip of black rexine. This radio is housed in a black leatherette covered wooden case and unusually is a VHF only receiver. I understand that this model was first produced in 1969

This is a high quality single band (88-101 MHz) radio with 13 transistors, treble and bass tone controls, sockets for a tape recorder and external aerial, automatic frequency control and inter station muting buttons. This radio is normally powered by two 9 volt PP9 batteries in series though as can be seen this one came with a power supply.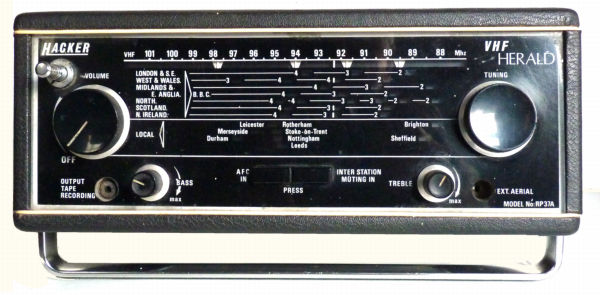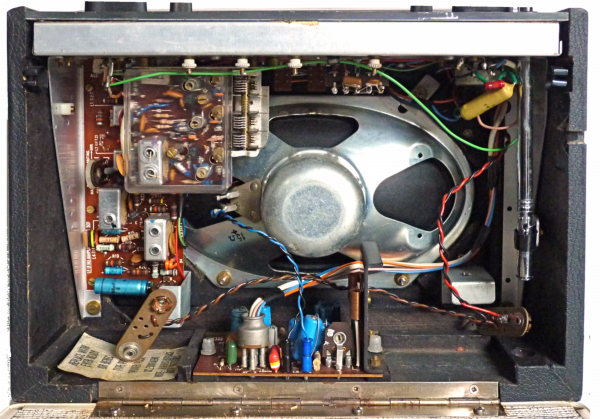 View of interior
Note the substantial loudspeaker and space for two 9 volt batteries.
Click here to see details of another Hacker RP37A.
Click here for an interesting light upon the manufacture of some Hacker radios.