Edgcumbe Instruments "Metrohm" Model 9A

Insulation and continuity tester
Serial No.410422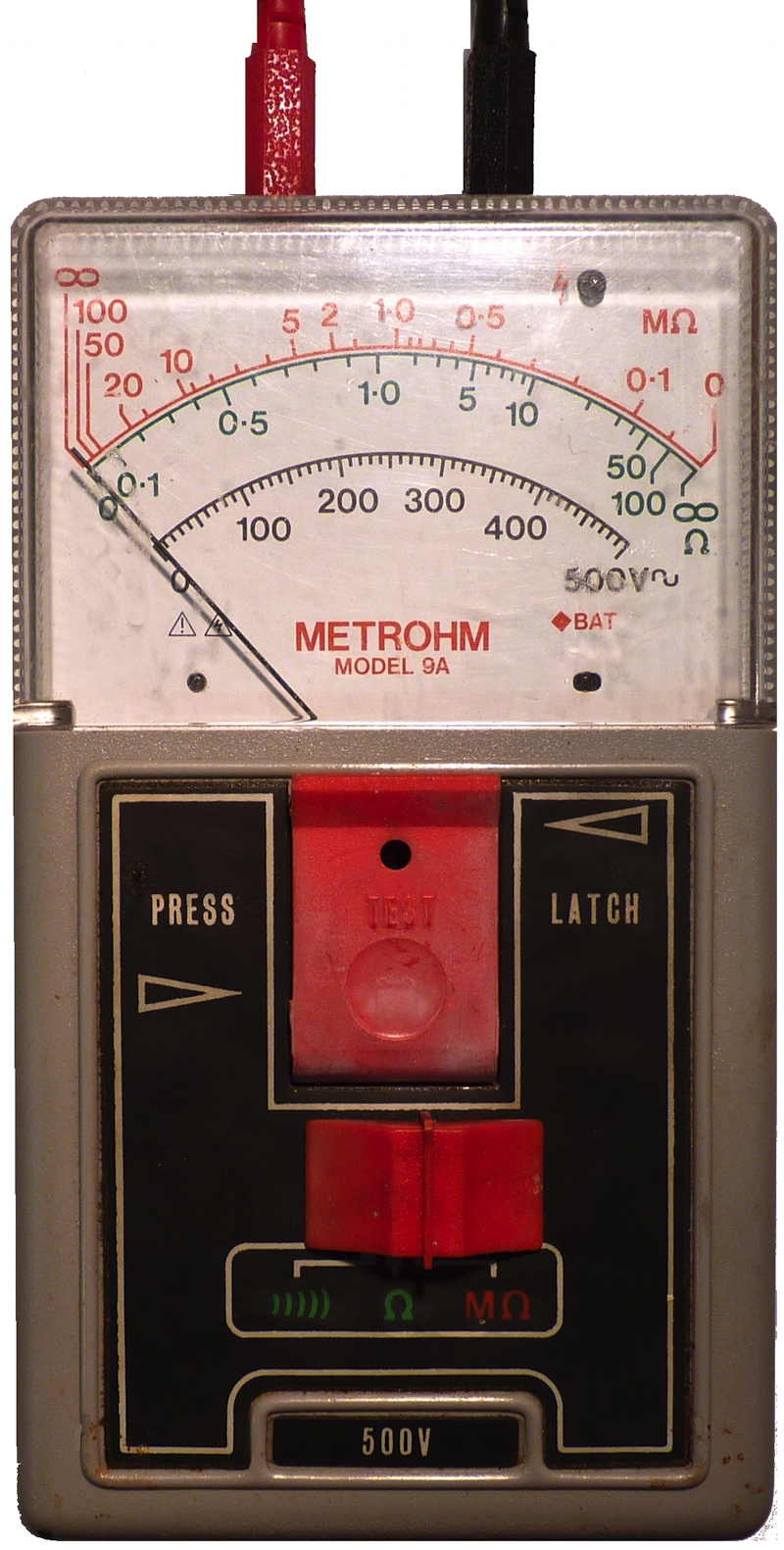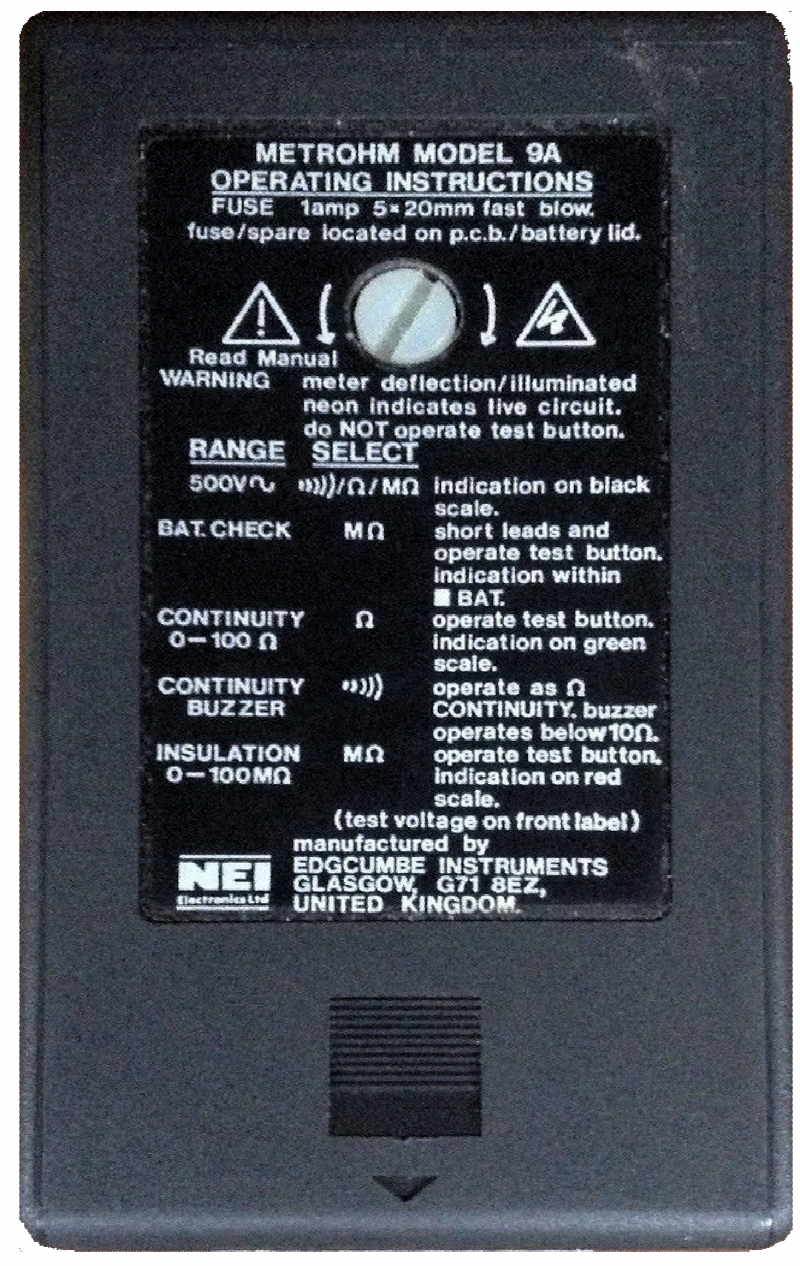 Metrohm s/n 410422 500 V Insulation and continuity tester 1MΩ and 1Ω midscale. Unusually for this kind of instrument it included a continuity buzzer and can also be used to measure AC Voltage (0-500V). This would have been a handy little meter for electricians working to the IEE 15th edition wiring regulations current at the time it was made. It uses six LR6 or AA size cells and is complete with leads and instruction manual. I understand that 250V and 1000V versions were also made. working, Click here to see details of an earlier version and an even earlier one here

Everett Edgcumbe & Co Ltd. was acquired by NEI and renamed Edgcumbe Instruments with works in Glasgow G71 8EZ.
I purchased this instrument together with an instruction manual on eBay. As received it failed to work but this was because one end of the battery holder was broken and there was insufficient pressure on the negative spring contact. A blob of hot glue and two part epoxy resin sorted out that problem but some of the intervening contacts needed cleaning. The AA cells fitted all indicated that they were in good condition when tested on a battery tester despite being dated 2008. I assume that this date must indicate that they were made several years earlier. A label on the casing indicates that it was tested on 1/12/84 and the instruction booklet is dated March 1984.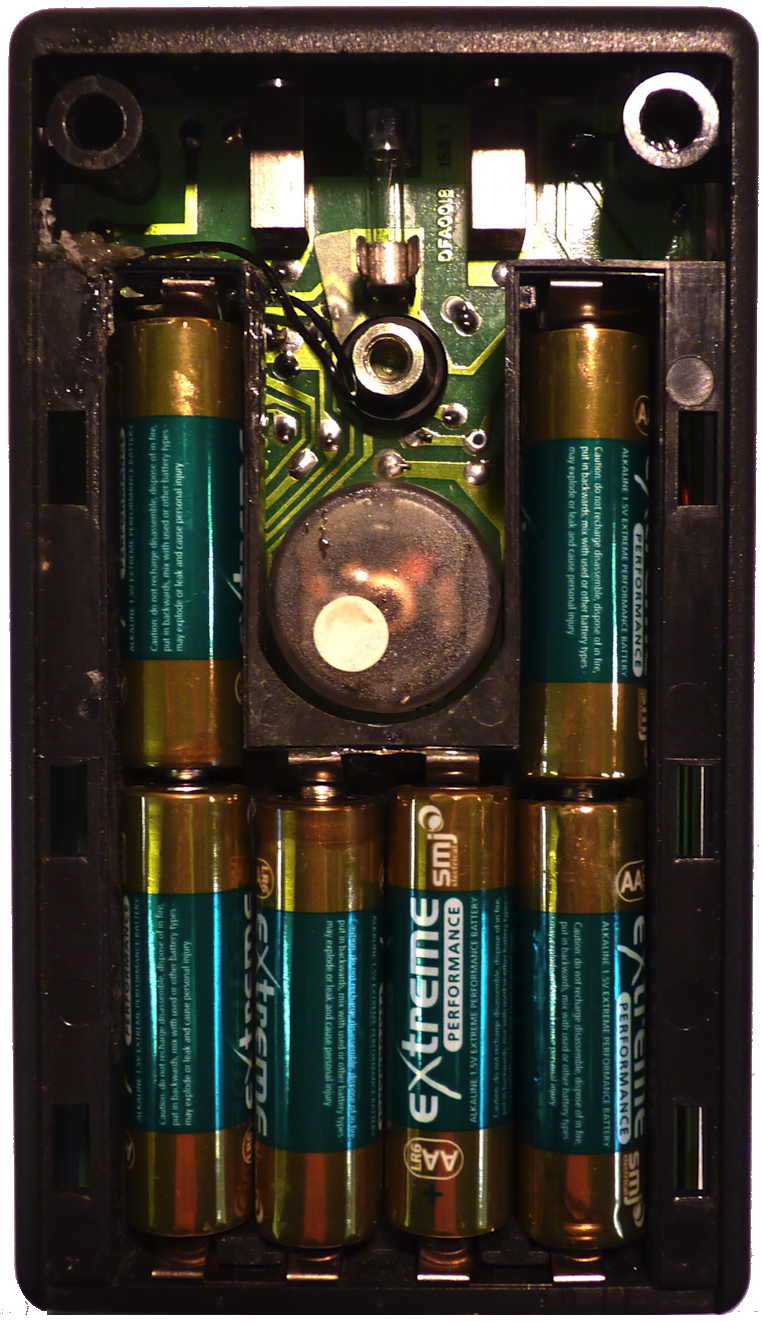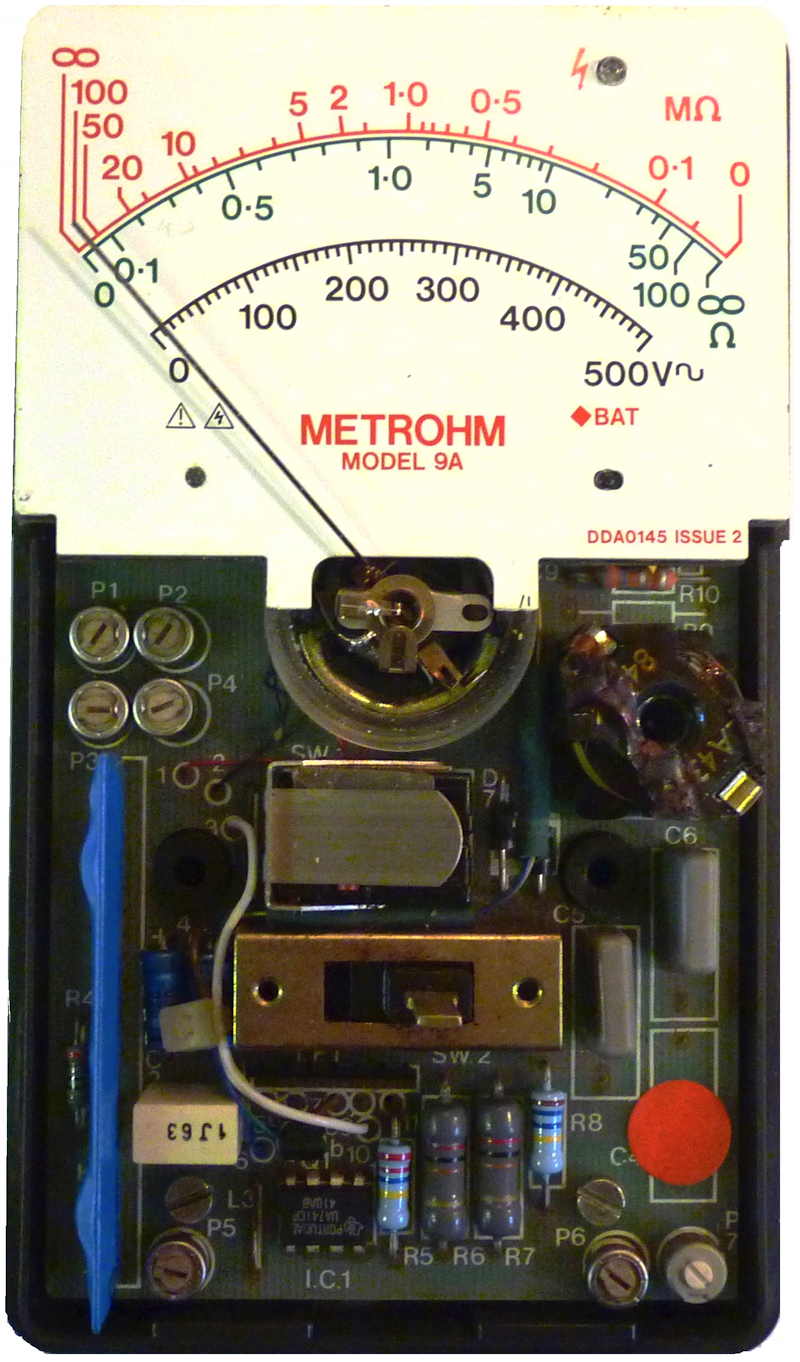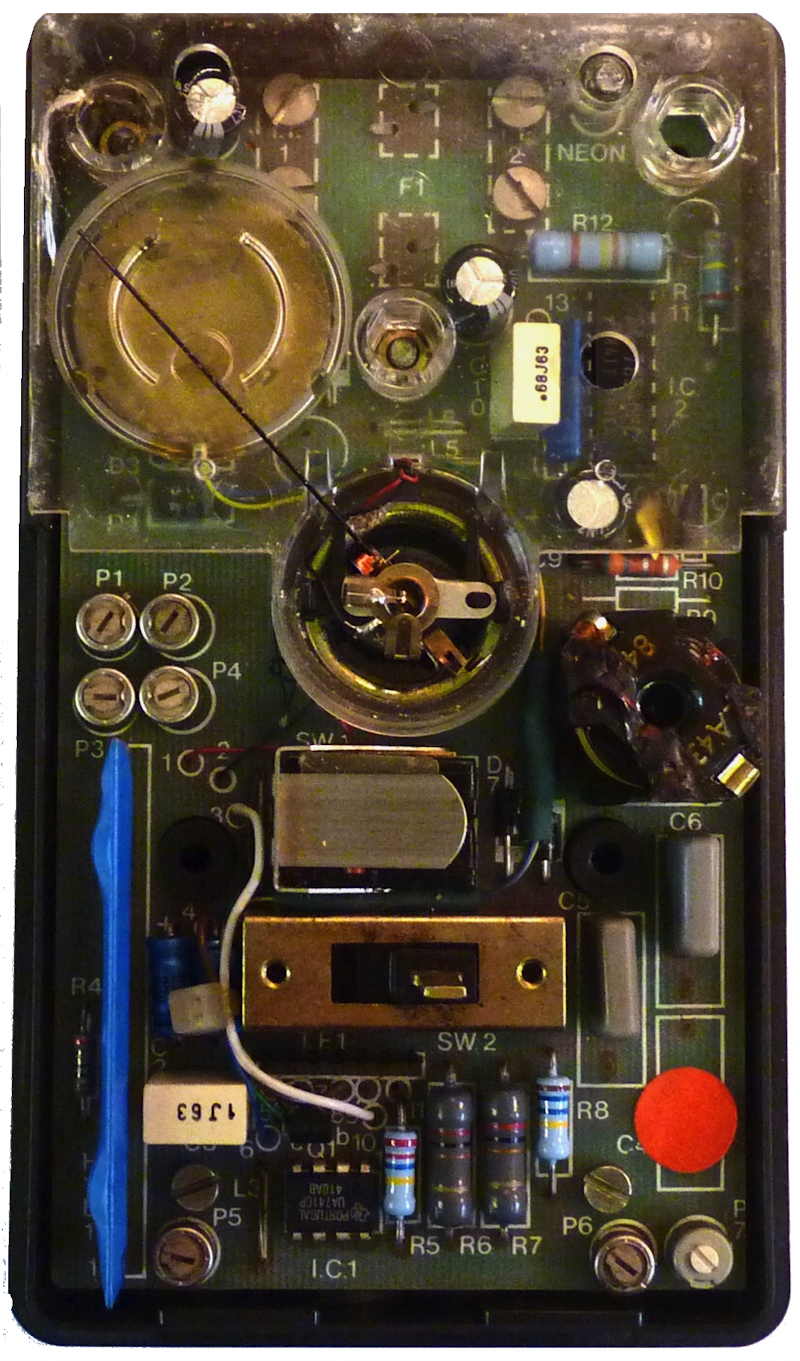 Open images in a new window to see greater detail.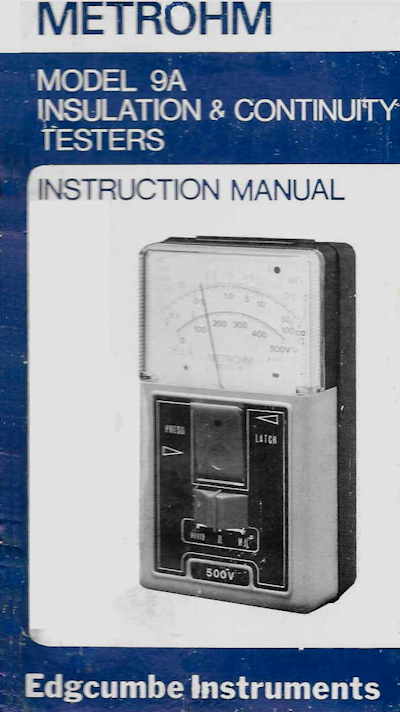 Click image to download instruction manual PDF (2MB)

Circuit details
A 78S40 (IC2) switching regulator together with a ferrite transformer is used to generate the test voltages. A 741 op amp (IC1) together with a single transistor provides the signal for the piezo electric sounder on the underside of the 1mA Sifam meter. The 20 pin blue item is a hybrid circuit which incorporates an amplifier and generates reference voltages for the rest of the circuitry.

Insulation Test
Range:- 0-100 MΩ-∞
Test Voltage- 500V D.C. ( other versions 100V, 250V)
+/-10% above 1MΩ load.
Short Circuit Current:- 2 mA nominal.
Accuracy:- +/- 1.6 mm of scale arc length.
Battery Consumption:- 70 mA nominal.
Continuity Test
Range:- 0-1000Ω-∞ .
Test Voltage:- 200 mV approx.
Short Circuit Current:- 20 mA nominal.
Accuracy:- +/- 1.6 mm of scale arc length.
Battery Consumption:- 20 mA nominal.
Buzzer
Range:- operates below 10Ω
Battery Consumption:- 30 mA nominal.
Voltage
Range:- 0-500 Volts A.C.
Accuracy:- +/- 3% full scale deflection.
Input impedance:- approx. 160kΩ at 25oV.
General
Battery:- 6 off HP7 (AA) pen cell or equivalent.
Fuse:- 1 amp Fast Blow 5x20 mA DIN.
Battery Range:- 7-9.5V.
Battery Life
On Insulation: 15 hours continuous or 10,000 operations with 5 sec. test.
On Continuity; 30 hours continuous or 20,000 operations with 5 sec. test.

Instrument Size:- 142 x 82 x 50 mm
Material:- Polycarbonate/A.B.S.
Weight w/o Carry Case:- 460 g
Movement:- 1 mA sensitivity, taut band suspension
Scale Length:- 70 mm approx.
Sockets:- 4 mm
Test Leads:- 1m long with shrouded. crocodile clips.
Carrying case:- 145 x 92 x 90 mm approx.

History
Edgar Isaac Everett left The Cambridge Scientific Instrument Company to set up his own business in 1884 and was joined by Kenelm Edgcumbe in 1900 to become Everett, Edgcumbe and Co. The premises were at Colindale Works, Hendon, London NW9 and it became a limited company in 1906. By 1968 it was part of the George Kent Group and later part of the NEI Group as Edgecumbe Peebles Ltd which subsequently became Edgecumbe Instruments Ltd. By 2003 Spirent Communications Scotland Ltd who had acquired the firm transferred the Metrohm range of instruments and low voltage test equipment to the Martindale Electric Company Ltd. The Metrohm range of High Voltage products designed by Edgcumbe Instruments are now manufactured by High Voltage Instruments Ltd.

For information on Meggers and other insulation testers click here